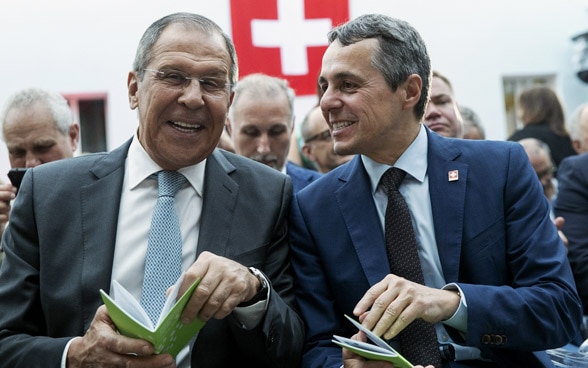 "Switzerland and Russia have a solid bilateral relationship," said Mr Cassis after the talks in Moscow. "Even though our views sometimes differ, we engage in genuine dialogue."
The talks focused on international conflicts and relations in Europe, among other things. During the meeting, Mr Cassis underlined his support for the values of the Council of Europe, which uphold freedom of expression, freedom of assembly and other fundamental freedoms.
Switzerland's efforts to bring Russian parliamentarians back to the Council of Europe were therefore also discussed. "We would be very pleased to see Russia taking up an active role once more in the Council of Europe and using it constructively," said Mr Cassis.
Another topic covered was Ukraine. Mr Cassis discussed with his Russian counterpart the situation of prisoners in areas not controlled by the Ukrainian government. He also raised the case of the 24 seamen who had been imprisoned after the incident which occurred near the Kerch Strait.
The two ministers also talked about trouble spots around the world and the associated deterioration of the humanitarian situation on the ground, focusing mainly on Iran, Syria and Venezuela. Mr Cassis also raised the matter of Switzerland's good offices. The future of International Geneva was also discussed. Mr Cassis welcomed the appointment of Ms Tatiana Valovaya as UN Director-General in Geneva, while Mr Lavrov noted with particular interest the Geneva Science and Diplomacy Anticipator (GSDA) Foundation, set up by the Swiss Confederation, the Canton of Geneva and the City of Geneva.

Inauguration of the Swiss embassy
The previous evening, both ministers had attended the inauguration of the new Swiss embassy in Moscow. In his speech at the inauguration, Mr Cassis reminded the audience that "even in times of permanent international upheaval, Switzerland is in constant dialogue with all actors and pursues policies that are as impartial and balanced as possible".
Mr Cassis and Mr Lavrov had met in September 2018 on the sidelines of the UN General Assembly in New York and in November 2018 for a working lunch in Geneva.
Since the signing of the memorandum of understanding on closer cooperation in 2007, Switzerland and Russia have maintained wide-ranging exchanges at all levels, with representatives from both countries meeting regularly for talks. Over 150 meetings have already taken place.
---
Further information:
Bilateral relations Switzerland–Russia

---
Address for enquiries:
FDFA Information
Federal Palace West Wing
CH-3003 Bern, Switzerland
Tel.: +41 58 462 31 53
E-mail: info@eda.admin.ch
Twitter: @SwissMFA
---
Publisher: