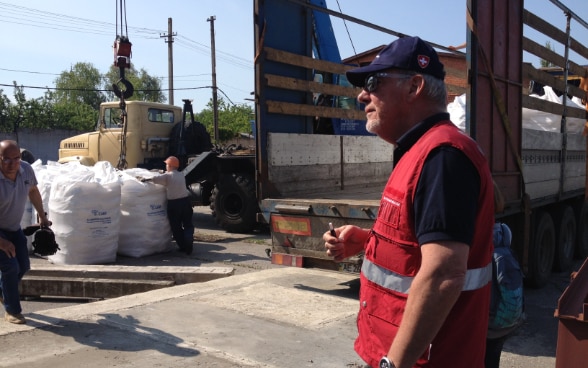 On Sunday morning a train carrying water treatment chemicals set off for eastern Ukraine. Its destination is the city of Donetsk, where the Donbas waterworks provide many people on both sides of the contact line with drinking water. Other goods, including medical supplies such as spare parts for an X-ray machine are being transported by lorry to Donetsk.
A second convoy consisting of 14 lorries is transporting 245 tonnes of chemicals to the Donbas waterworks in the city of Krasnoarmiysk on the government-controlled side. Part of this consignment, a lorry load of medical supplies and medicines,  will be delivered to the hospital in Kurakhove this morning.
The convoys are supported and monitored by seven members of Swiss Humanitarian Aid, which is part of the Swiss Agency for Development and Cooperation (SDC), and of the Swiss Humanitarian Aid Unit (SHA), and by employees at Switzerland's embassy and cooperation office in Kyiv.
The current consignment is the fourth that Switzerland has sent to the conflict region since spring 2015. So far, the SDC is the only state actor organising humanitarian convoys which cross the contact line in eastern Ukraine.
---
Further information:
World Humanitarian Summit 2016, Istanbul

---
Address for enquiries:
Information FDFA
Bundeshaus West
CH-3003 Bern
Tel.: +41 58 462 31 53
Fax: +41 58 464 90 47
E-Mail: info@eda.admin.ch
---
Publisher: