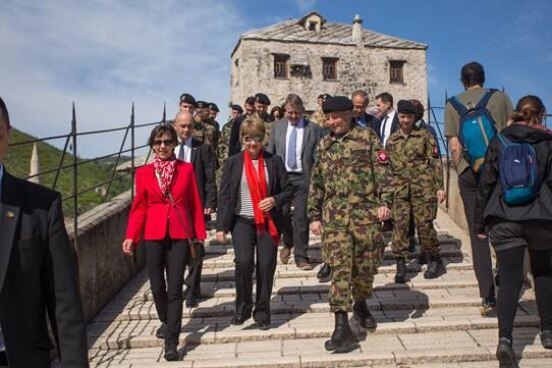 "Switzerland and the international community work closely together with the Armed forces of Bosnia and Herzegovina. This cooperation is important for the stability of the region. And it is of crucial importance to Europe that stability and security prevail here in the Western Balkans, in Bosnia and Herzegovina", stated the Swiss Federal Councilor and Head of Federal Department of Defence, Civil Protection and Sport (DDPS) Viola Amherd during her visit to Bosnia and Herzegovina today.
In Mostar, the Head of DDPS accompanied by members of the Swiss National Council and the Swiss Ambassador to BiH Andrea Rauber Saxer, visited the contingent of the Swiss Armed Forces within the Military Operation Althea of the European Union Force (EUFOR Althea). The Swiss Liaison and Observation Team (LOT) demonstrated how it marks its presence in Mostar and the area. By their presence, the young men and women from the Swiss LOT help to ensure peace and stability in the area. Furthermore, Switzerland has also been involved in the training of local specialists for the safe storage of weapons and ammunition for some time. These useful, concrete contributions are highly appreciated in Bosnia and Herzegovina.
In addition to the exchange with the Swiss army officials, the Federal Councilor Amherd was able to gain an impression of the current situation on site at various locations. She met with her counterpart in Bosnia and Herzegovina, Minister of Defence Marina Pendeš as well as with representatives of civil society in Mostar.
"Mostar is a very beautiful city but unfortunately it shows that there is still some work ahead of us. The situation is not yet sufficiently stable that the EUFOR Althea units can withdraw. We will therefore continue to engage for stability in Bosnia and Herzegovina", said the Head of DDPS.
For 15 years, Switzerland has been involved in peacebuilding in Bosnia and Herzegovina within the EUFOR Althea. This visit to Bosnia and Herzegovina followed after the visit to Kosovo. The Swiss operations in Bosnia and Herzegovina and in Kosovo contribute to peace and stability in Western Balkans region. Both Swiss missions are based on the UN resolutions and are an important component of the tasks of the Swiss Armed Forces.