Global food crises have multiple causes
828 million – this is the staggering number of people currently suffering from hunger worldwide. That's 10% of the world's population. Climate change, conflicts, COVID-19, and economic crises: the ongoing global food crisis has multiple causes and triggers, all of which are placing enormous stress on communities. The food crises that result from these triggers can also reduce people's lives to a struggle for survival.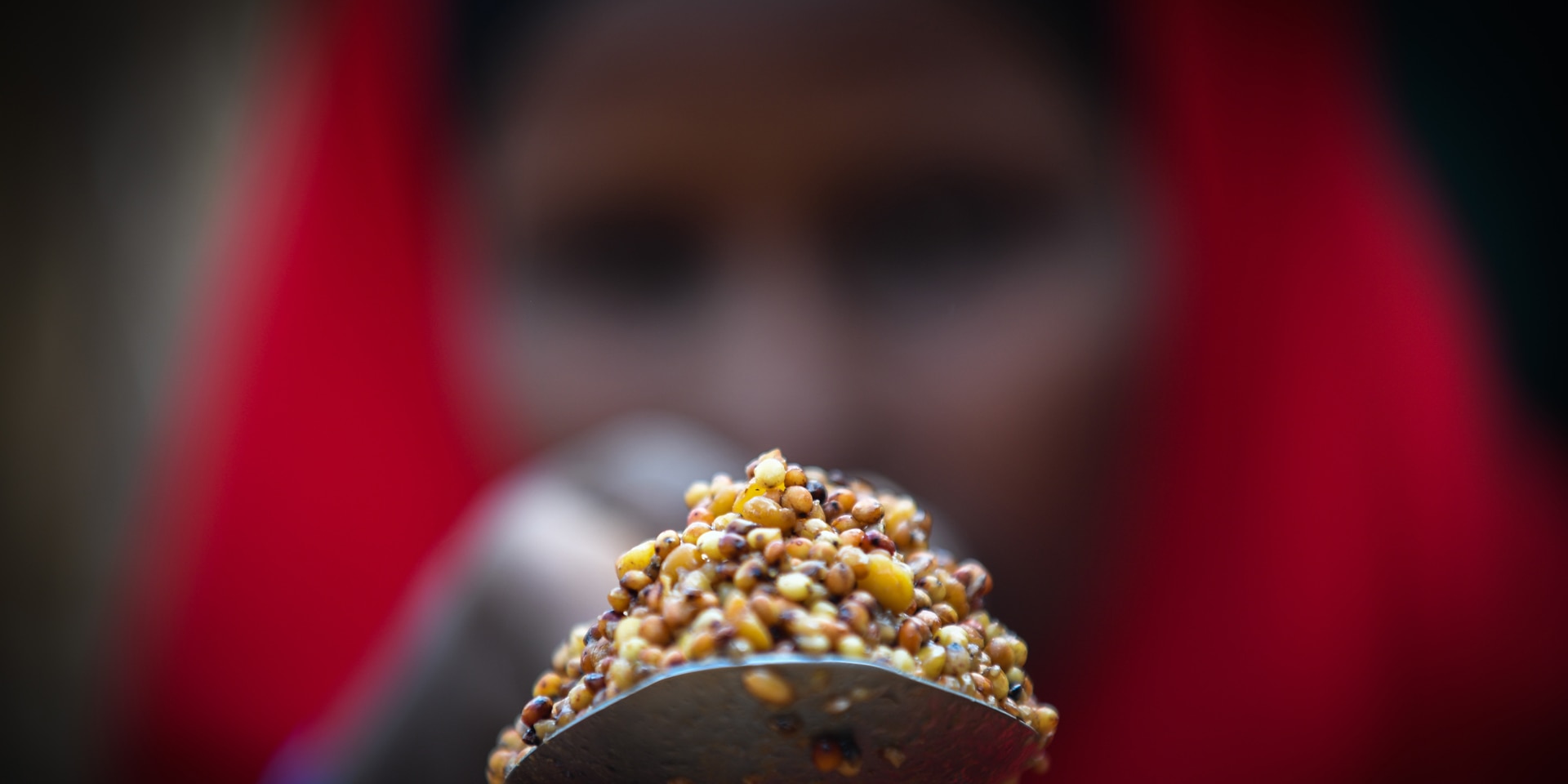 A woman holds a spoon of cereal at a distribution centre in Gode wereda Dolo Baad, a region often affected by drought (Ethiopia, 2017). © FAO/IFAD/WFP/Michael Tewelde
Millions of people worldwide are affected by the current food crisis, whose scale has no historical precedent. Global hunger has multiple causes – including climate change-related droughts and floods, pandemics, armed conflicts, and economic crises that drive up prices – and is often exacerbated by the interplay of various factors. The COVID pandemic has dramatically aggravated the situation since 2020.
According to the United Nations World Food Programme (WFP) and the Food and Agriculture Organisation, 828 million people are currently going hungry. The WFP estimates that 349 million people will be at risk of acute hunger by the end of 2022. Some 49 million of them are already experiencing a life-threatening emergency. The number of children affected is also alarmingly high: 153 million children under 18 years of age are going hungry, and 60 million children under 5 are acutely malnourished.
World Food Programme (WFP)
The UN's World Food Programme (WFP) is the largest humanitarian organisation combating hunger and malnutrition worldwide and is one of Switzerland's main partners in the area of food security. In 2021, Switzerland contributed approximately CHF 100 million to the WFP. In addition to non-earmarked support for the WFP's activities across the board, Switzerland provides technical and financial assistance to improve protection and accountability to affected population groups, climate change adaptation and disaster risk reduction efforts, and logistical support capabilities.
Climate change and extreme weather
Droughts and floods can cause devastating food crises in affected regions. Soils parched by drought and crops destroyed by flooding leave significant gaps in local food production. The drought crisis in the Horn of Africa, where rains have failed for years, and the floods in Pakistan have drawn the world's attention this year. Extreme weather events are expected to become more frequent due to climate change.
But climate change also poses significant challenges for food production more generally, resulting in lower yields and higher food prices. These developments pose enormous challenges for consumers and smallholder farmers alike.
Armed conflicts
In Yemen, Ethiopia, Haiti and Ukraine, for example, armed conflict or gang warfare have disrupted the production and supply of food. The destruction of fields, theft of crops and livestock, and disruption of food transport that are all too common consequences of armed conflicts take a heavy toll on the lives and livelihoods of local communities. The interruption of wheat exports from Ukraine, for example, has dealt a severe blow to countries that depend on wheat imports for the production of food staples such as bread. This has triggered a chain reaction of global proportions which has worsened the situation in many regions of the world.
Approximately 70% of people currently facing a food crisis live in a conflict region. Even where violence is not a direct cause of hunger, it exacerbates an already bleak situation. Protracted conflicts, compounded by the factors outlined above, lead to long-term crises that are extremely difficult to overcome.
Economic crises
Economic shocks can limit food production and people's ability to afford food. Even before the war in Ukraine, wheat and fertiliser prices rose sharply as a result of persistent inflation in many countries – the war is now dramatically compounding the situation on the world market. According to WFP calculations, global food prices have risen by an average of 33% since January 2020, and prices for fertilisers, which are essential for agriculture, have risen by as much as 202% in the same period. Petrol prices have also risen, by 49%, driving up transport costs. Rising prices affect all members of the supply chain, from farmers and growers to processors and consumers.
For humanitarian organisations working in the field of food security, rising food and transport prices also translate into higher costs to procure and deliver relief supplies. This impacts the budgets of these organisations, which already have to cope with ever-growing numbers of people in need.
COVID-19
The consequences of the COVID-19 pandemic must also be taken into account. According to the WFP, the number of people affected by acute hunger has increased by 200 million to 349 million since 2020. The ongoing pandemic has plunged millions of people who were previously not food insecure into food insecurity. Global supply chain disruptions, production losses, and the global economic downturn: the economic consequences of the pandemic are causing millions more people to go hungry.
Focus: food crisis

The need for humanitarian interventions and long-term development projects to strengthen food security is greater than ever and is not expected to diminish in 2023. Quite the contrary: given current trends, many more people will depend on assistance from the global community. Because the reasons for food insecurity vary, different approaches are necessary to help people in need and to work together to develop long-term sustainable food security solutions.  From 5 to 9 December 2022, the SDC will host a thematic week via a variety of channels to raise awareness of the causes of the global food crisis in various regional contexts as well as projects working to address it.