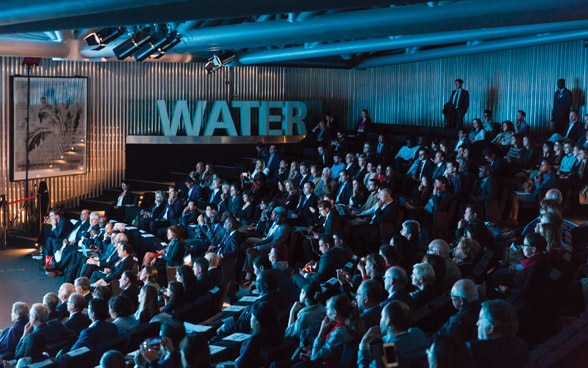 The SDC is working to ensure that the 'water goal' in the 2030 Agenda for Sustainable Development is implemented rapidly and that water is afforded greater prominence at the international level. Switzerland's actions are based on the firm belief and its own experience that the sustainable management of water resources is essential to promote social, economic and environmental development and to maintain global peace.
SDC Focus
International efforts have already given rise to major improvements, for example in relation to drinking water and sanitation services. However, the results are still insufficient. At present, 844 million people still lack access to clean water. Furthermore, one-third of the world's population is still living without adequate sanitation facilities.
The SDC is committed to strengthening the implementation of the 'water goal' enshrined in the 2030 Agenda for Sustainable Development. Alongside a group of countries, the SDC is supporting global political dialogue to ensure that international obligations are met and specific activities undertaken that will help achieve this goal. With its many years of experience in water management, Switzerland is making a considerable contribution to identifying comprehensive transboundary solutions. Moreover, the SDC is strengthening the voice of young people in policy dialogue both regionally and globally, for they are the potential water specialists of the future.
Water management is a particularly complex issue and one which the international community is addressing: Switzerland possesses broad expertise in this field. As stretches of two major European rivers, the Rhône and the Rhine, flow through the country, and a number of lakes extend across its borders, Switzerland has long experience in transboundary water management and can assist in developing solutions for other parts of the world.
Background
2030 Agenda for Sustainable Development: a stand-alone 'water goal'
Under the auspices of the SDC, Switzerland worked successfully together with a coalition of other countries to have water included as a stand-alone objective in the 2030 Agenda for Sustainable Development. Goal 6 covers the protection and restoration of water-related ecosystems as well as access to drinking water, sanitation facilities and hygiene. A further objective is to promote cross-border cooperation between states in order to ensure comprehensive water resources management that involves all users at all levels.
Water and human development
If a reliable supply of drinking water and access to adequate sanitation services are guaranteed, the population is more likely to remain in good health, thus reducing medical costs, while healthier children mean lower school absenteeism rates. Water points located close to human settlements help save precious time – time otherwise devoted to fetching water, a task often assigned to women and children.
Water is also essential to ensuring the livelihoods of people in rural areas, producing food and energy, and driving growth in industry and the services sector.
Furthermore, shortages of water can give rise to tension or even conflicts. 153 states share rivers, groundwater reserves or lakes with one or more neighbouring countries. Rivalries over water therefore have direct repercussions for peace and security. By contrast, commonly agreed, peaceful management fosters peace and stability.