Ignazio Cassis looks forward to continued cooperation with Ukraine
On 29 October 2021, Federal Councillor Cassis launches the process 'On the Road to Lugano' in preparation for the Ukraine Reform Conference 2022, to be held in Switzerland. Increasing responsibility at local level, lowering the cost of heating, contributing towards conflict prevention – Switzerland has been supporting Ukraine for more than 20 years in the areas of international cooperation, peacebuilding and humanitarian aid. Thanks to this long-standing engagement and its chairmanship of the conference, Switzerland will be able to make a lasting contribution in 2022 to stability and prosperity in Ukraine.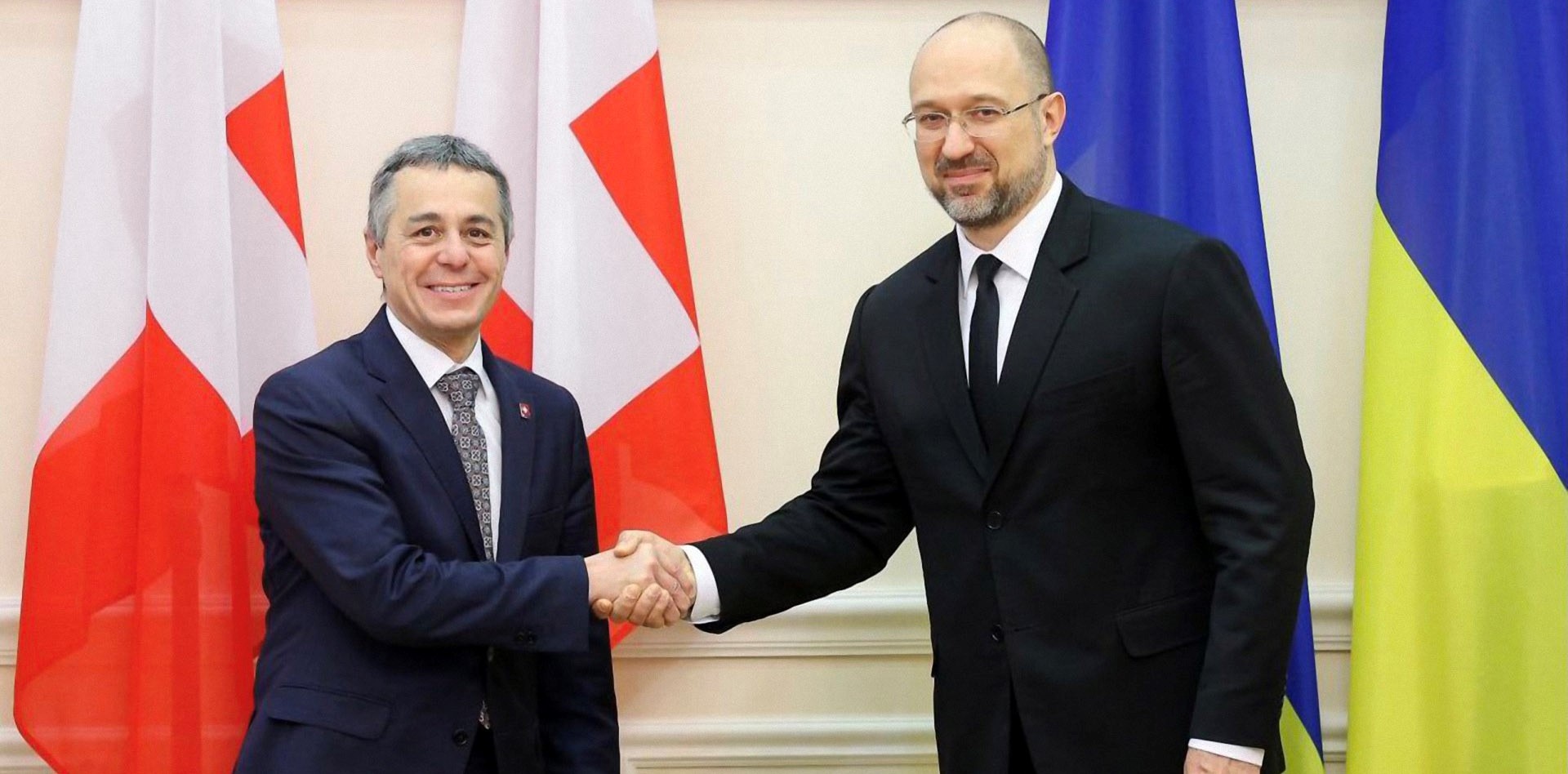 "I hope that the 'On the Road to Lugano' process will be an inclusive and positive one", says Federal Councillor Ignazio Cassis at the launch with Ukrainian Prime Minister Denys Shmyhal. © FDFA
Almost half of the Ukrainian population live on the equivalent of 100 Swiss francs or less per month. That equates to 18 million people – almost twice the entire Swiss population. These figures come from a study conducted in 2020 by the Ptoukha Institute for Demography and Social Studies of the National Academy of Sciences of Ukraine. This makes Ukraine one of the largest but also lowest-income countries in Europe. The situation there is further exacerbated by Covid-19 and the ongoing conflict in eastern Ukraine.
Switzerland is supporting Ukraine with regard to reforms for increased stability and prosperity, having maintained bilateral relations with Ukraine for some 30 years and engaged in international cooperation for over 20 years. During this time, Switzerland has achieved a great deal in Ukraine. Some examples are provided below.
Stability: State institutions as equal partners
In the past, the majority of Ukrainians were dissatisfied with local public services. Decentralisation reforms were launched with a view to building public trust in state and municipal institutions. Local institutions and communities were afforded greater powers, for example in the public services, healthcare and education sectors. Switzerland has been following this process closely since the 1990s, and in so doing it can look to its own federal system of government. Initial results can be seen following the completion of the main reforms; surveys show that half of all Ukrainians have benefited from the decentralisation reforms. Oleksii Riabokon, mayor of the commune of Pyryatyn, which lies 160 kilometres east of Kyiv, explains: "People no longer have to deal with someone from the authorities telling them what to do. They now speak to a specialist, who assists them with their queries."
Prosperity: Loans lower heating bills
Two thirds of Ukrainians can barely afford to pay their heating bills. Switzerland has helped some 300,000 households to obtain loans for modern heating, windows and building insulation, thus significantly cutting heating bills. "Our bills have halved thanks to this investment!" says Yevhen Yarovyi, head of a co-owners' association in Kyiv. He adds: "There is still a lot to do. For example, we would like to insulate our pipes to further reduce our heating costs."
Peace: Developing expertise in conflict prevention and resolution
Expertise in conflict resolution and mediation strengthens social cohesion and plays an important role in preventing armed conflicts. Ukraine, marked by seven years of conflict in the east, can rely on Switzerland's outstanding expertise in peacebuilding. For example, Switzerland supported the development of a master's programme in conflict resolution and mediation at the National Technical University of Ukraine. Olha Zaiarna, a graduate of the programme in Kyiv, explains: "Over the course of the programme, I realised what I really wanted to do: pursue my academic research and look for practical ways of improving the situation in the east."
"Switzerland is a capable and trusted partner of Ukraine in political, economic, financial and cultural spheres," says Federal Councillor Ignazio Cassis.
Switzerland is a capable and trusted partner of Ukraine.
Federal Councillor Ignazio Cassis
Switzerland is a trailblazer in its long-standing support for Ukraine's transition following the collapse of the Soviet Union. This support has been a key foundation for Ukraine's comprehensive reform agenda, which was launched after the 2014 revolution.
Shaping the future focus of reforms together
In this context, Ignazio Cassis, head of the Federal Department of Foreign Affairs (FDFA), together with Ukrainian Prime Minister Denys Shmyhal, launched the process 'On the Road to Lugano' on 29 October 2021 in Kyiv. This marks the start of preparations for the Ukraine Reform Conference (URC2022), which will be held in Lugano on 4 and 5 July 2022 under the joint chairmanship of Switzerland and Ukraine. 'On the Road to Lugano' and the URC2022 allow Ukraine – together with international partners – to reflect upon the reforms under way and discuss the next steps in the reform process. "Among friends and partners, we define future reform priorities, which are essential for a peaceful, innovative and prosperous Ukraine," said Mr Cassis. As host of the URC2022, Switzerland has the unique opportunity to chart a sustainable course in the Ukrainian reform process.
Federal Councillor Cassis and President Zelenskyy focus attention on stability and prosperity
In July 2021, Mr Cassis, on behalf of Switzerland, took over the chairmanship of the Ukraine Reform Conference (which has been rotating annually since 2017) from Lithuania. Shortly thereafter, Mr Cassis and Ukrainian President Volodymyr Zelenskyy agreed upon a set of practicable reforms to be examined during the 'On the Road to Lugano' process and at the conference. Stability and prosperity are focal areas of the URC2022; they are also priorities of Switzerland's Foreign Policy Strategy 2020–23. In consultation with Ukrainian and international partners, special emphasis will be placed on reforms in the following areas: justice, decentralisation, reintegration, green transformation, banking and finance, corporate governance, human capital and digital transformation.
Participants from around the world to congregate in Lugano
Several hundred representatives from various countries are expected to attend the Ukraine Reform Conference 2022 in Lugano. Attendees will include heads of state, ministers and government officials. The ministerial conference also involves civil society, the private sector, academia and international organisations. Switzerland looks forward to co-hosting the event together with Ukraine under the banner 'Reforms for all, all for reforms'. At the end of URC2022, the President of the Swiss Confederation and the President of Ukraine will sign the Lugano Declaration.
On the road to Lugano
Long before the conference gets under way the preparatory process 'On the Road to Lugano' will take place. Mr Cassis commented: "I hope that the 'On the Road to Lugano' process will be an inclusive and positive one." Important topics will be discussed by all stakeholders during events taking place both in and outside Ukraine. It is equally important to clearly inform the Ukrainian public about the reforms. During the process, an assessment of reform progress in Ukraine up to July 2022 will be led by the Swiss embassy in Kyiv, while in the international arena, Switzerland will adopt the role of bridge-builder at four events: in Brussels, at the WEF in Davos, in International Geneva and in Washington D.C.
Swiss foreign policy priorities are also priorities of Ukrainian reforms
To ensure the effectiveness of its foreign policy, Switzerland adopts a coherent and strategic approach. Following an analysis of the current international context and taking into account future trends and developments, the Federal Council set out four priorities in its Foreign Policy Strategy 2020–23. The focal areas of peace and security, prosperity, sustainability and digitalisation provide the main lines for the geographical and thematic follow-up strategies, thereby ensuring that efforts are not duplicated and harnessing the synergies of all actors.
Ukraine is one of the few countries in the world in which Switzerland deploys all of its available instruments within the scope of its International Cooperation Strategy 2021–24, a component of its foreign policy strategy:
- Humanitarian aid (FDFA)
- Peacebuilding (FDFA)
- Cooperation with Eastern Europe (FDFA)
- Economic cooperation (SECO)
Swiss international cooperation efforts in Ukraine focus on activities that promote peace, prosperity and sustainability, but also digitalisation. The thematic priorities of Ukraine's reform process overlap with Swiss foreign policy priorities, and both countries clearly stand to benefit from co-organising the Ukraine Reform Conference 2022 in Lugano.
More about the cascading strategy of Swiss foreign policy