Job satisfaction in the FDFA has increased compared to 2017
The evaluation of the staff survey of the Federal Administration and the FDFA's survey of local staff has shown that job satisfaction in the FDFA has increased by around 3 percentage points compared to 2017. The FDFA's strengths lie in the areas of direct supervisor, job satisfaction, scope for action and work content.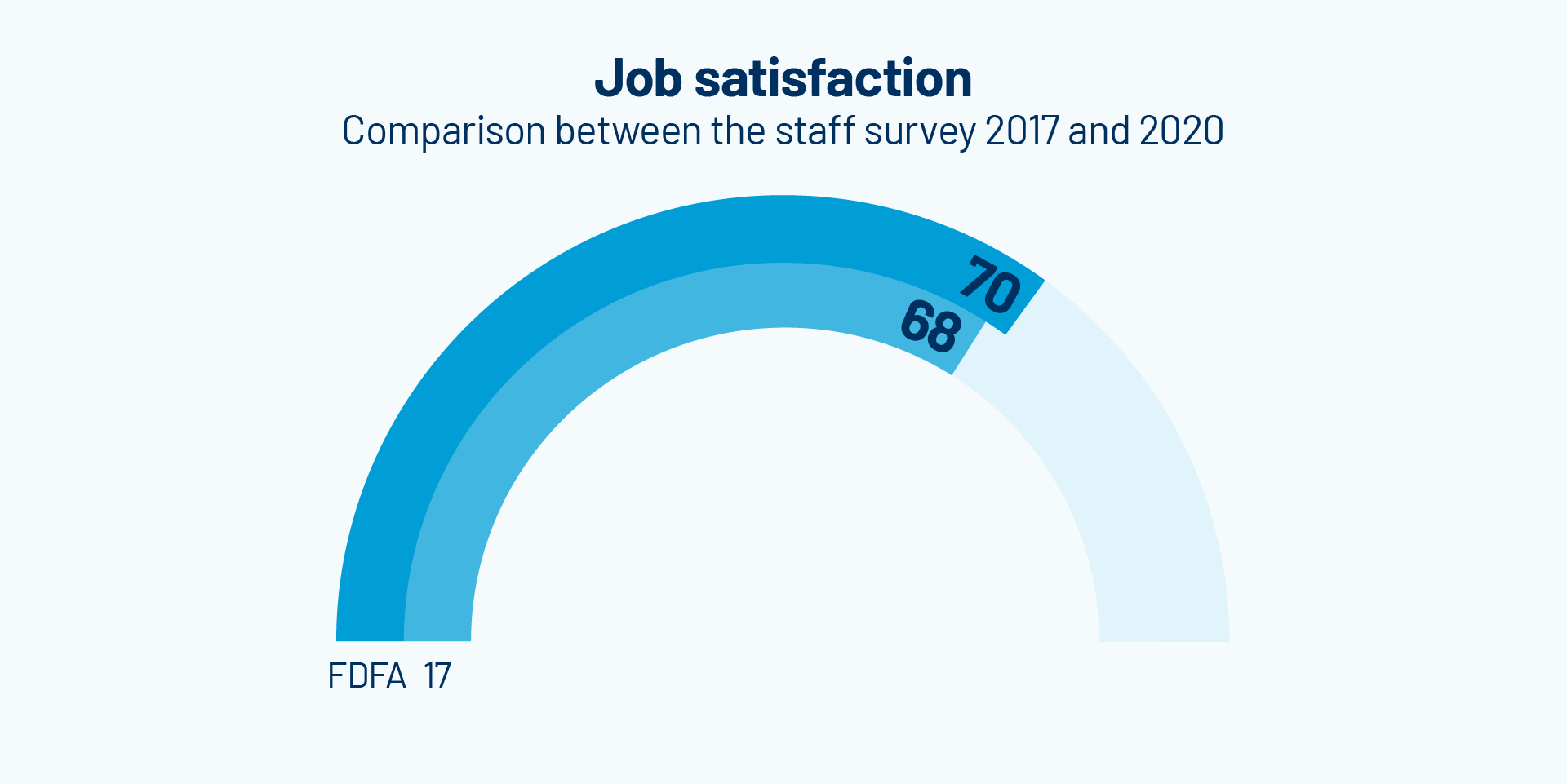 Job satisfaction is an area where the FDFA scored better in the 2020 staff survey than in 2017. © empiricon
On 20 January 2021, the Federal Council took note of the results of the 2020 employee survey among Federal Administration workers. The evaluation of the results shows that overall the employees of the Federal Administration are satisfied with their work situation. Employee identification and commitment, mobile working and digitalisation scored particularly highly in the survey.
The FDFA has improved in many areas since the last employee survey in 2017. In 11 out of 18 criteria, the FDFA performed equally well or better than the federal administration did on average. The FDFA performed strongly with regard to line management, job satisfaction, capacity to act and job content.
Job satisfaction rose compared with 2017 (70 points vs. 68), but is slightly below the Federal Administration average (73 points).
The score for "commitment", which includes loyalty, identification and engagement, and shows employees' sense of belonging, increased to 80 at the FDFA, one point higher than in 2017.
Ratings for individual aspects of employees' work situations varied. '"greement on objectives" (86 points), 'mobile working' (81 points) and 'teamwork' (80 points) received the best scores. Line managers also received positive feedback (76 points, slightly above the average for the Federal Administration as a whole). 
Career prospects (63 points) and work processes/decision-making (64 points) received the most critical feedback, while work-life balance scored significantly better in 2020 (68 points, compared with 62 in 2017).
Survey among local personnel
In October and November 2020, all staff on permanent contracts under Swiss employment law were asked to take part in the survey, with the exception of employees on hourly contracts, interns and apprentices. Employees on contracts regulated by local law were excluded from this survey. The Directorate for Resources (DR) therefore carried out its own survey of local staff in autumn 2020 to supplement the survey of federal government employees.
The results for specialist staff (employees performing a specialist function) and support staff (residence, cleaning, gardening and security staff as well as drivers) were analysed separately for FDFA local personnel as a whole, and disaggregated by region and representation.
Positive feedback on job satisfaction, teams and leadership
Based on the results of this survey, local staff report high levels of job satisfaction and commitment. Both specialist staff and support staff gave positive assessments of their job satisfaction, team and management. Specialist staff also gave high marks to job content. The answers by support staff showed a positive assessment of how their work was valued, the trust shown in them, change management and how mistakes were handled (culture of constructive criticism).
Last October and November, around 66 per cent of FDFA staff took part in the 2020 employee survey, alongside employees of the other federal departments. Around 80 per cent of local FDFA staff took part in the survey of local personnel.