Federal Councillor Ignazio Cassis visits key partner countries in the Mekong region
From 1 to 6 August, Federal Councillor Ignazio Cassis is travelling to Thailand, Laos and Vietnam. Switzerland maintains specific and long-standing relations with the three countries. All three are members of the Association of Southeast Asian Nations (ASEAN) – an important regional organisation for Switzerland. The region is also home to many Swiss nationals. On the trip, Mr Cassis hopes to gain an insight into how Swiss expatriate communities are faring in times of COVID.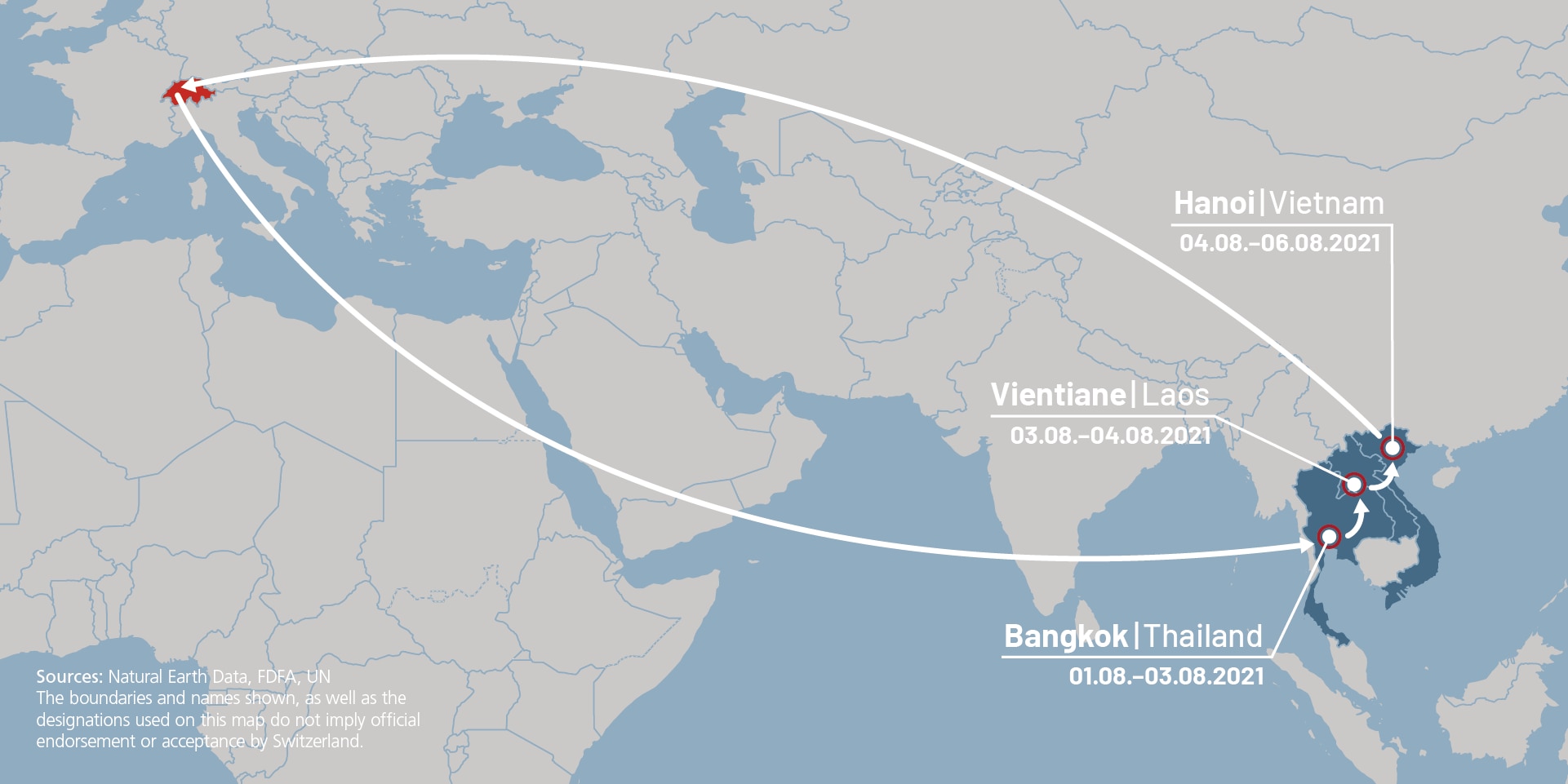 From 1 to 6 August, Federal Councillor Ignazio Cassis is travelling to Thailand, Laos and Vietnam © FDFA
Asia has become much more important to Switzerland as a continent in recent years, and Switzerland has long-standing diplomatic relations with various Asian countries. It has also been present in many countries in the region for decades as part of its development cooperation activities.  Asian countries are popular holiday destinations for the Swiss, and many Swiss nationals have made their homes there. And bilateral cooperation has been stepped up in many areas, such as trade and industry, research and innovation.
The 'impressive momentum' that the Asian region has developed in recent years "looks set to continue in the immediate future," as Ignazio Cassis writes in Switzerland's Foreign Policy Strategy 2020–23. The Federal Council therefore attaches great importance to the development of relations with Asian countries. To this end, Switzerland is to combine bilateral cooperation with greater engagement with regional organisations, such as the Asia-Europe Meeting (ASEM) and the Association of Southeast Asian Nations (ASEAN). 
The Asia-Europe Meeting (ASEM) is an intergovernmental forum for dialogue and cooperation that addresses political, economic, social and cultural issues with the aim of deepening ties between Asia and Europe. Switzerland joined the ASEM in 2012.
The Association of Southeast Asian Nations (ASEAN) with its ten member states is the most important regional organisation in Southeast Asia. ASEAN facilitates regional integration and cooperation and promotes peace and security, prosperity, and human development. Switzerland was conferred the status of ASEAN sectoral dialogue partner in 2016.
When Ignazio Cassis travels to the Mekong region in early August, he will visit Thailand, Laos and Vietnam – three countries that are members of both the ASEM and ASEAN. Switzerland maintains specific bilateral relations with all three countries – 2021 marks 90 years of diplomatic relations with Thailand and 50 years with Vietnam – and it seeks to further develop these ties, particularly in terms of trade. In Laos the focus is on development cooperation, which is set to be intensified in the next few years. The Mekong region is also home to many Swiss nationals. Mr Cassis is keen to take advantage of his trip to gain an insight into how the expatriate Swiss community is faring in the face of the coronavirus pandemic.
1–3 August: Bangkok, Thailand
A rich and varied programme awaits Federal Councillor Cassis during his visit to the Thai capital. 
90th anniversary of the establishment of diplomatic relations
During his trip, the head of the FDFA will pay tribute to 90 years of bilateral relations with Thailand. The Treaty of Friendship and Commerce between the two countries was signed back in 1931. Over the last nine decades, relations between Switzerland and Thailand have continued to grow, and now cover many fields.  As well as frequent political dialogue, the two countries have developed economic and commercial relations, and held constructive discussions on education and training, research, tourism, climate change and the promotion of carbon-neutral energies. 
Ignazio Cassis will meet various contacts from the Thai government, in particular his counterpart Don Pramudwinai, prime minister Prayut Chan-o-cha, and the ministers responsible for health and the environment.  The talks will address the anniversary of bilateral relations; the political situation – in particular the conflicts in the south of the country where Switzerland is involved in the mediation process; economic and consular relations; the pandemic; and climate change.
Deepening of cooperation in economic and consular areas
Thailand is one of Switzerland's most important commercial partners in Southeast Asia. It is an influential member of the Association of Southeast Asian Countries (ASEAN), Switzerland's key dialogue partner in the region.
The trip will be an opportunity to meet Swiss economic and tourism actors that are well established in Thailand, to sign a consular agreement, and to inaugurate the Bangkok office of the Swiss-Thai Chamber of Commerce, which was recently set up at the Swiss embassy. 
Public health situation
During his trip, Mr Cassis is keen to get an insight into the public health situation on the ground, which also affects many Swiss nationals. Swiss Humanitarian Aid already sent around a hundred ventilators and over a million antigen tests to Thailand at the end of July.
Federal Councillor Cassis hands over medical supplies 
On 2 August, Federal Councillor Ignazio Cassis attended a ceremony to hand over to the Thai authorities a consignment of humanitarian supplies dispatched by Switzerland last week.
Switzerland's donation of approximately 100 respirators and over one million antigen test kits was made in response to an increase in COVID-19 infections in Thailand.
3-4 August: Vientiane, Laos
Ignazio Cassis's trip to Vientiane is an important leg in his tour of Southeast Asia, nine years after the last visit to Laos by a federal councillor.  Switzerland has been present in Laos since 1995 with its development cooperation activities, and will renew its commitment with a new programme starting in 2022. This cooperation, which is conducted as part of Switzerland's Mekong regional programme, will be the central theme of Mr Cassis's meeting with Sonexay Siphandone, the Laotian deputy prime minister responsible for planning and investment, in Vientiane on 4 August.
As part of the Mekong regional programme, Switzerland works to help build inclusive societies, particularly in Cambodia and Laos, by promoting equitable and sustainable development and democratic governance.  To help support rural populations, Switzerland carries out activities in local governance and citizen participation, agriculture and food security as well as vocational skills development and employment.
Ignazio Cassis's trip to Vientiane will involve three elements:
The signing of a cooperation agreement
The SDC opened an initial cooperation office in the Laotian capital Vientiane in 2006, and will launch its new four-year programme starting in 2022. During his visit, Mr Cassis will also sign a cooperation agreement with Sonexay Siphandone, which will establish a solid legal framework and clear rules for the efficient implementation of the programme for the next four years. The programme seeks to deepen cooperation in the areas of jobs and vocational skills development, agriculture and food security, climate change mitigation and adaptation, improving local governance and citizen participation, and humanitarian aid in Laos.
Through this agreement, the two partners undertake to respect democratic principles and fundamental rights, the Sustainable Development Goals of the 2030 Agenda, and the Paris Climate Agreement.
Visit to a quarantine centre for migrant workers
The head of the FDFA will also visit a quarantine centre for migrant workers returning to their country. The centre is the result of collaboration between the United Nations World Food Programme (WFP), and the Swiss and local Red Cross. The WFP support in these quarantine camps illustrates the extensive multilateral cooperation between Laos and Switzerland, which also extends to the global response to the COVID-19 pandemic.
Inauguration of the new consular agency in Vientiane
A consular agency located at the Swiss cooperation office in Vientiane opened in 2020, but its inauguration was delayed due to the pandemic. However, COVID-19 has shown that preserving and expanding a consular network is essential for Switzerland. The agency in Vientiane will therefore reinforce this network of representations, and support the regional consular centre in Bangkok. A second consular agency is planned to open soon in Luang Prabang.
On the whole, the economic situation in Laos is gloomy – the COVID-19 pandemic has caused a major socio-economic crisis that is compounding existing challenges and pushing growing numbers of people below the poverty line. During his trip, Mr Cassis will therefore emphasise the unique relations of solidarity and cooperation that exist between Laos and Switzerland.
4–6 August: Hanoi, Vietnam
Ignazio Cassis's trip to Vietnam will focus on strengthening economic ties between the two countries. The head of the FDFA will meet with Vietnam's vice president Vo Thi Anh Xuan and foreign minister Bui Thanh Son in Hanoi on 5 August. Mr Cassis will use this opportunity to launch the new cooperation strategy of the State Secretariat for Economic Affairs (SECO) for the period 2021–24. The visit also marks the 50th anniversary of bilateral relations between Switzerland and Vietnam.
30 years of development cooperation
Vietnam, as an economically emerging country, has seen a large and rapid increase in its trade with Switzerland. A brief look back at the history of Switzerland's international cooperation in Vietnam illustrates how the country has evolved during this period. From 1991 onwards, Swiss support focused on poverty reduction. In 2016, the Swiss Agency for Development and Cooperation (SDC) ended its long-term bilateral development cooperation with Vietnam as the country had been recategorised as a lower middle-income country. Many SDC projects have made a real impact in the country. For example, 25,000 families have seen their incomes grow through better marketing of key products from Vietnamese agriculture, such as spices, bamboo and tea. In addition, Swiss involvement helped bring about a participatory democracy, at least in the regions in which the SDC was operating.
SECO's new cooperation strategy
In the meantime, through SECO, Switzerland promotes reliable and stable economic framework conditions, small and medium sized enterprises (SMEs), and access to international markets. This is also reflected in SECO's new cooperation strategy, which builds on past achievements. The strategy's main objective is to achieve sustainable growth and economic prosperity that is increasingly supported by private sector initiatives. The strategy's focus areas include strengthening public finance administration and modernising the financial sector.