Markus Leitner: "Switzerland and Iran are forward-looking countries that are proud of their traditions"
In 2020, Switzerland celebrates a hundred years of its diplomatic presence in Iran. Ambassador Markus Leitner emphasises the good relations, multi-sectoral exchanges and trust between the two countries.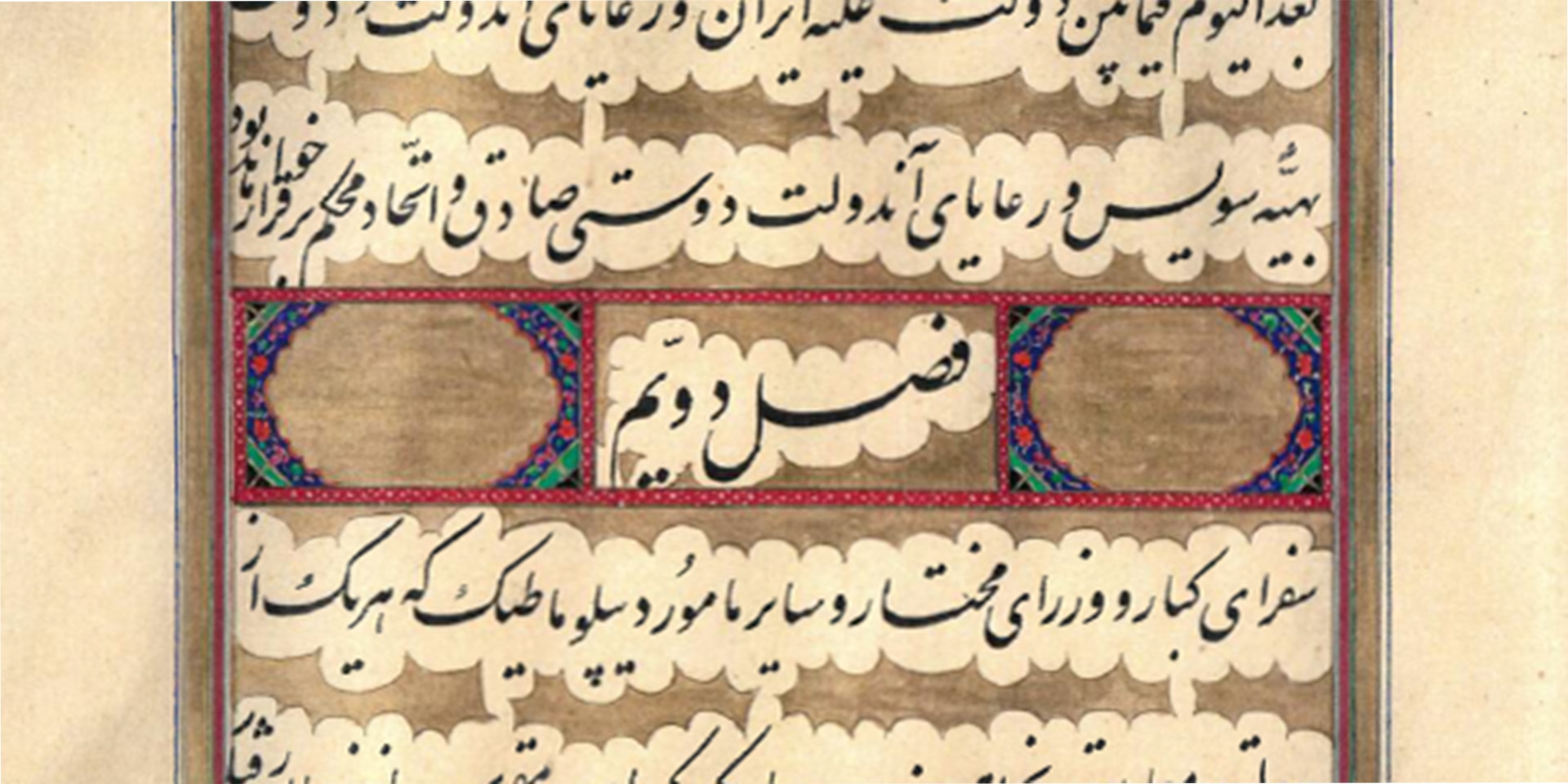 Page from the Treaty of Amity and Commerce between the Swiss Confederation and Persia (1873) © Swiss Federal Archives
"Iran is a millenarian civilisation. A diplomatic presence going back a hundred years may not seem like much in view of this history. Yet this anniversary is important both for Iran and for Switzerland. Though geographically far apart, over the last hundred years our two countries have developed very extensive cooperation and exchanges under sometimes difficult circumstances. In my view this is a remarkable achievement."
In an interview conducted by telephone, the head of the Swiss embassy in Iran underlines the close relations and mutual trust between these two mountainous countries separated by a distance of more than 5,000 kilometres.
Switzerland and Iran signed a treaty of friendship almost 150 years ago. Today, they are engaged in extensive exchanges across multiple sectors.
The trust between Switzerland and Iran is mutual. It has been built through strong links and exchanges in numerous fields.
These exchanges began over a century ago. As early as the 17th century, Swiss travellers visited Iran, which was then known as Persia. A small community of Swiss watchmakers also settled down in the country at the time. Official relations between the two countries were established in the 19th century. As the century progressed, the two countries steadily stepped up commercial, academic, economic and political exchanges. Following the Shah's visit to Switzerland in 1873, the Swiss Confederation and Persia signed a treaty of amity and commerce. In view of the deepening of relations across a wide range of areas, the Federal Council decided to open a Swiss representation in Tehran in 1920.
Today, cooperation between Switzerland and Iran spans a wide range of areas, including politics, economic relations, finance, trade, agriculture, culture, politics, education and training, research, migration, and human rights. "Trade and cooperation between Iran and Switzerland are growing steadily. A relationship based on trust is crucial in this part of the world," notes Leitner.
Federal Councillor Ignazio Cassis travels to Tehran
Federal Councillor Ignazio Cassis, head of the Federal Department of Foreign Affairs, will make an official visit to Iran from 5 to 7 September 2020 as part of the celebrations marking 100 years of Switzerland's diplomatic presence in Tehran. Mr Cassis will meet, among other Iranian leaders, President Hassan Rouhani and Minister of Foreign Affairs Mohammad Javad Zarif. Discussions will focus on bilateral relations and Switzerland's protecting power mandates.
Unique Swiss contributions: protecting power mandate, humanitarian channel and intellectual property rights
Switzerland has represented US interests in Iran since 1980, a testament to the trust it enjoys both in the United States and in Iran. Switzerland acts as an intermediary between the two countries under a protecting power mandate. A state with a protecting power mandate represents the interests of one state in a third state when the two states have broken off diplomatic relations. Switzerland has a long tradition of acting as a protecting power within the framework of the good offices it provides to other states. Switzerland is currently acting as a protecting power for Iran, the US, Russia, Georgia and Saudi Arabia.
"Iranians have always liked Switzerland, which they see as a diverse, multicultural country that is proud of its traditions."
Markus Leitner
In close cooperation with the US and Iranian authorities, Switzerland has also set up a banking channel (Swiss Humanitarian Trade Arrangement) for the export of humanitarian goods to Iran. Since February 2020, this payment mechanism has enabled Swiss companies to deliver food, pharmaceutical and medical goods to Iran for humanitarian reasons.
The two countries are also working together to promote innovation through scientific and intellectual property cooperation. Swiss and Iranian universities and researchers are engaged in a broad range of exchanges. In addition, new partnerships are being established to strengthen intellectual property protection to ensure legal certainty and facilitate trade between Swiss and Iranian companies.
"Iranians have always liked Switzerland, which they see as a diverse, multicultural country that is proud of its traditions. The Swiss, for their part, have a fascination for this country, with its rich history and strong tradition of hospitality."  These positive perceptions are also based on shared and strong values. "Both are forward-looking countries that are proud of their traditions," concludes Ambassador Leitner.
10 landmark years in a century of Switzerland's presence in Iran
1873 Formal negotiations to establish diplomatic relations are initiated during the visit of the Shah of Persia to Europe. Naser al-Din Shah Qajar spends five days in Switzerland in July 1873 following a visit to Paris. During this visit, the Swiss Confederation and Persia sign a treaty of amity and commerce.
1920 Switzerland opens its first diplomatic representation in Iran following a Federal Council decision. A Swiss honorary consulate is opened in Tehran on 1 August.
1936 Switzerland replaces its consulate with an embassy.
1940 The number of Swiss nationals in Iran increases from three in 1873, to 20 in 1919, to 182 in 1940. Exchanges between the two countries grow steadily. Iran recruits Swiss experts to work in the fields of public finance, law, railway construction and the machine industry. Swiss and Iranian traders, artists, scientists, students and travellers discover each other's countries with growing enthusiasm.
1950 In the 1950s, Swiss geologists are commissioned by Iran Oil Company to carry out research and expeditions – and discover large oil deposits near Qom in 1956.

 
1980 Switzerland accepts a mandate to represent US interests in Iran. Switzerland has carried out this protecting power mandate for 40 years.
2016 During a state visit to Tehran, President of the Swiss Confederation Johann Schneider-Ammann signs a roadmap to strengthen bilateral relations with Iran.
2018 Switzerland begins representing Iran's interests in Saudi Arabia and Saudi interests in Iran in March. This protecting power mandate covers consular services.
2019 Switzerland assumes a protecting power mandate to represent Iranian interests in Canada. This mandate does not include consular services.
2020 Federal Councillor Ignazio Cassis visits Iran at the beginning of September. This meeting provides an opportunity to reaffirm the good bilateral relations between the two countries.