"We have a vested interest in a democratic and stable Sudan"
Two years ago, the Sudanese people took to the streets and forced President Omar al-Bashir to resign. Since then, the country has been taking steps towards democracy. Ambassador Siri Walt, head of the Africa Division of the FDFA, is travelling with a delegation to Khartoum to ascertain how Switzerland can most effectively support Sudan's democratic transition.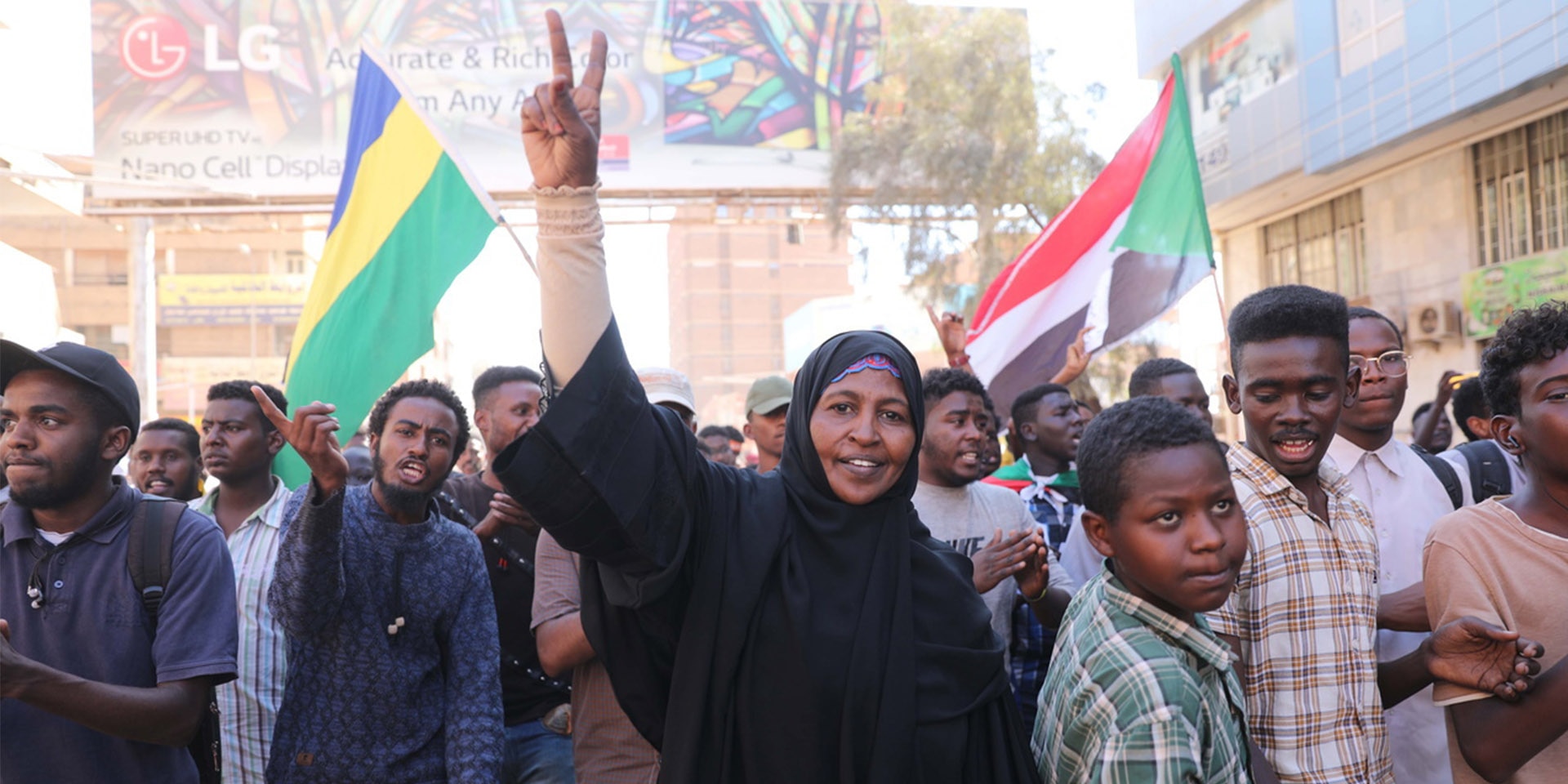 A wave of hope: with long-time President Omar al-Bashir's regime overthrown, Sudan has set out on the path to democracy. ©Keystone
Ms Walt, you are leading a delegation that is holding political talks in Sudan from 13 to 14 June. What makes Sudan an interesting partner for Switzerland?
Two years ago the Sudanese people impressed the world as they peacefully protested for peace, justice and freedom. Since the overthrow of the former regime, Sudan has taken the path towards freedom and democracy. Switzerland has a fundamental interest in an inclusive political transition towards a democratic and stable Sudan opening a new perspective particularly for its young population. This is also in line with our Sub-Saharan Africa Strategy, which defines supporting the peace and transition processes in the Greater Horn of Africa as a priority for Switzerland.
It goes without saying that the outbreak of the global Covid-19 pandemic has also hit Sudan, which was already struggling with a dire economic situation prior to the pandemic. Despite this difficult starting position, Sudan has undertaken important economic and financial reforms, paving the way to international development and viable commercial relations, as well as a successful democratic transition.

What opportunities do the latest developments in Sudan offer for bilateral cooperation with Switzerland? Where do you see the greatest potential?
The success of the political transition in Sudan is of fundamental importance for Sudan, for the whole region and for us. We will therefore step up and broaden our engagement in Sudan in the coming years. In addition to humanitarian assistance and bilateral diplomacy, this means that Switzerland seeks to contribute to the transition in Sudan through development cooperation, migration policy, peace promotion and human rights. We will also use our economic policy, notably our influence within the World Bank and the International Monetary Fund, to support economic reforms including the process of debt relief.
Switzerland also has multilateral channels at its disposal to support the transition in Sudan, including its seat in the Board of Directors of the World Bank Group and its support to the new UN Mission in Sudan UNITAMS.
How would you describe Switzerland's bilateral relationship with Sudan today?
Our bilateral relations are very good and notably based on our history of peace support in Sudan. In 2002, Switzerland facilitated and hosted on the Bürgenstock the negotiations for the Nuba Mountains Ceasefire Agreement. This important ceasefire paved the way for the 2005 Comprehensive Peace Agreement that ended decades of civil war in Sudan. For over 20 years, Sudan has been a priority country for our humanitarian activities. Today we want to support the transition in Sudan and further develop our historic friendship based on mutual trust and cooperation.
Following severe flooding in Sudan last autumn, Switzerland provided humanitarian aid. How does this commitment fit in with Switzerland's long-term cooperation?
Switzerland disburses 8.5 million CHF yearly for humanitarian aid in Sudan. In 2020, an additional CHF 1 million has been provided in relation to the massive floods that hit the country. It is in the nature of Swiss humanitarian aid to be able to react quickly and effectively in times of crisis and in the case of Sudan, such actions contribute to strengthening the partnership that we have with this country.