75% of Swiss citizens living abroad have more than one nationality
At the end of 2021, more than one in ten Swiss nationals were living abroad – some 788,000 in total. The share of the Swiss population living abroad increased by 1.5% compared to 2020. Almost two-thirds were living in Europe. A few countries experienced significant increases. Below are the main findings of the Federal Statistical Office's statistics for 2021 on the Swiss abroad, published at the end of March.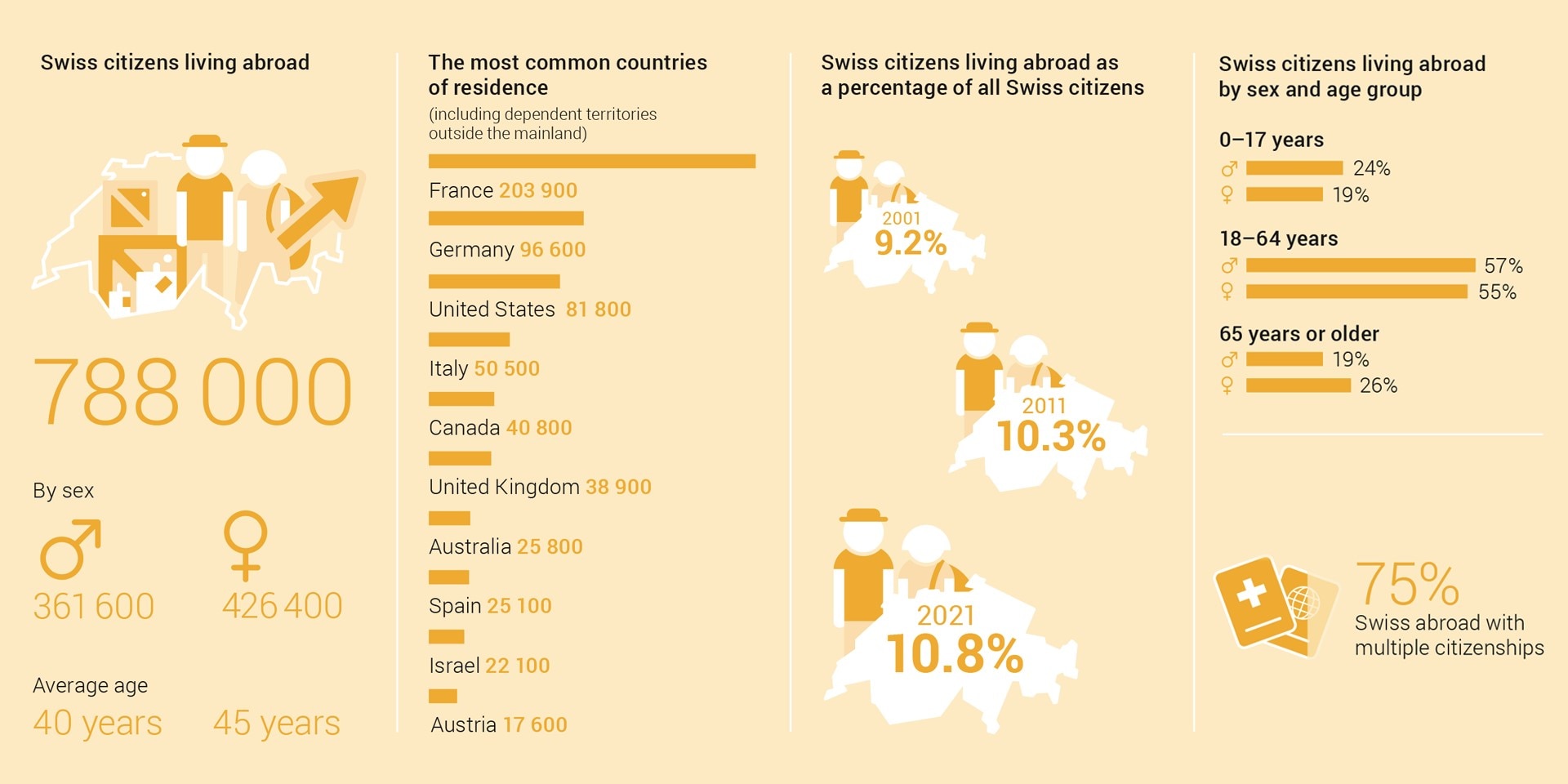 The figures for the Swiss abroad in 2021 summarised in a graph. © FSO
Caroline was 21 when she decided to leave for Australia in 2007. Since then, she has never returned to live in the land of her origins, in the canton of Valais. She left Vétroz and never looked back, smitten by the different way of life and climate of the country where she built her life. Though when she first arrived in Australia, she had no idea that she would end up living there permanently.
She went to Perth to learn English at an international college, and was only supposed to stay for six months. She's now been there for 15 years. "I had no particular desire to leave Switzerland and live elsewhere. I still feel Swiss and am happy that Switzerland is my home country. But sometimes you get tempted to live somewhere else."
Some 28,700 people like Caroline chose to leave Switzerland in 2021. This trend has been constant for almost 30 years. Net migration of Swiss nationals has been negative since 1992, meaning that in concrete terms, the proportion of Swiss people who chose to leave the country has always been higher than the number returning. The trend slowed down considerably in 2020, however, not least because of the global COVID-19 pandemic.
Fun facts – the countries with the fewest Swiss people in the world
1
Five territories in the world have only one Swiss national registered with a representation. These include the Falkland Islands, American Samoa, Niue, the Federated States of Micronesia, and North Korea.
0
The islands of Wallis and Futuna, Nauru, Tuvalu and the Marshall Islands are among the only territories in the world that no Swiss nationals call home. The same goes for Turkmenistan.
19
Just under 20 territories have 10 or fewer Swiss nationals. While most of them are islands in the Pacific or Atlantic, other larger territories also feature on this list. They include Greenland, Equatorial Guinea, Guinea-Bissau, Djibouti, Eritrea, Lesotho and Suriname.
More Swiss abroad, and more with multiple nationalities
Of the 788,000 Swiss nationals who were registered with a Swiss representation abroad, three quarters are also nationals of at least one other country. The share of Swiss citizens with multiple nationalities is highest in the Americas. In more than half of the countries on the American continent where they reside, the proportion is 75% or more. The highest shares (over 90%) are found in South America, particularly in Chile and Argentina.
Caroline also eventually obtained dual citizenship in 2012. She felt an ever-stronger attachment to her host country. "Obtaining dual citizenship is very practical. Beyond the benefits of Australian citizenship in Australia, it's also a way to feel a bit more at home." In Australia, more than 80% of Swiss nationals living there have at least dual citizenship. The Federal Statistical Office sees this high proportion of Swiss abroad with dual citizenship as a reflection of a multicultural Switzerland.
Since 2017, the number of Swiss citizens with more than one nationality rose by 5.3% across the continents. In fact, growth was positive in Asia (+6.7%), in Europe (+6.5%), in Oceania (+4.8%) and in the Americas (+2.9%). In the same period, however, the number of Swiss citizens with more than one nationality fell by 2.8% in Africa. This statistic is in keeping with the overall evolution of the number of Swiss nationals living abroad, which shows that Africa is the only continent where the number has decreased since 2020. 
Europe in the lead, followed by the Americas
Compared with 2020, numbers increased in Europe (+2.2%) in Asia (+0.7%), in Oceania (+0.6%), and in the Americas (+0.2%), while in Africa they fell (–0.6%). The majority of Swiss citizens living abroad were on the European continent (501,600 people, 64%). The largest community resided in France (203,900). This was followed by Germany (96,600), Italy (50,500), the United Kingdom (38,900) and Spain (25,100). The number of Swiss citizens grew in all of these countries, with the greatest increase in the United Kingdom (+3.0%) and the lowest in Italy (+0.8%). Portugal had only a small number of Swiss citizens (5,400), but the growth recorded in 2021 was one of the highest among European countries (+14.1%).
Some 286,300 Swiss citizens were on other continents, i.e. 23.0% in the Americas, 6.8% in Asia, 4.2% in Oceania and 2.4% in Africa. The largest communities outside Europe were in the United States, which registered 81,800 people, ahead of Canada (40,800), Australia (25,800) and Israel (22,100). An increase was seen in all of these countries but the greatest was observed in Israel with 3.0% more than in 2020.
The Consular Directorate (KD) of the FDFA provides a variety of services for Swiss nationals living around the world. It has an advisory service which provides general information on living abroad, emigration and returning to Switzerland.
The KD works closely with other federal agencies, cantonal bodies, foreign authorities and other national and international partners. It is responsible for coordinating all matters relating to the Swiss abroad within the Federal Administration.