Cluster munitions – Why are they so dangerous?
Switzerland fights vigorously against cluster munitions. Unfortunately, these weapons, which cause significant humanitarian damage, are still in use today. Like some hundred other states parties to the Convention on Cluster Munitions, Switzerland is committed to halting their proliferation and promotes the universalisation of the Convention.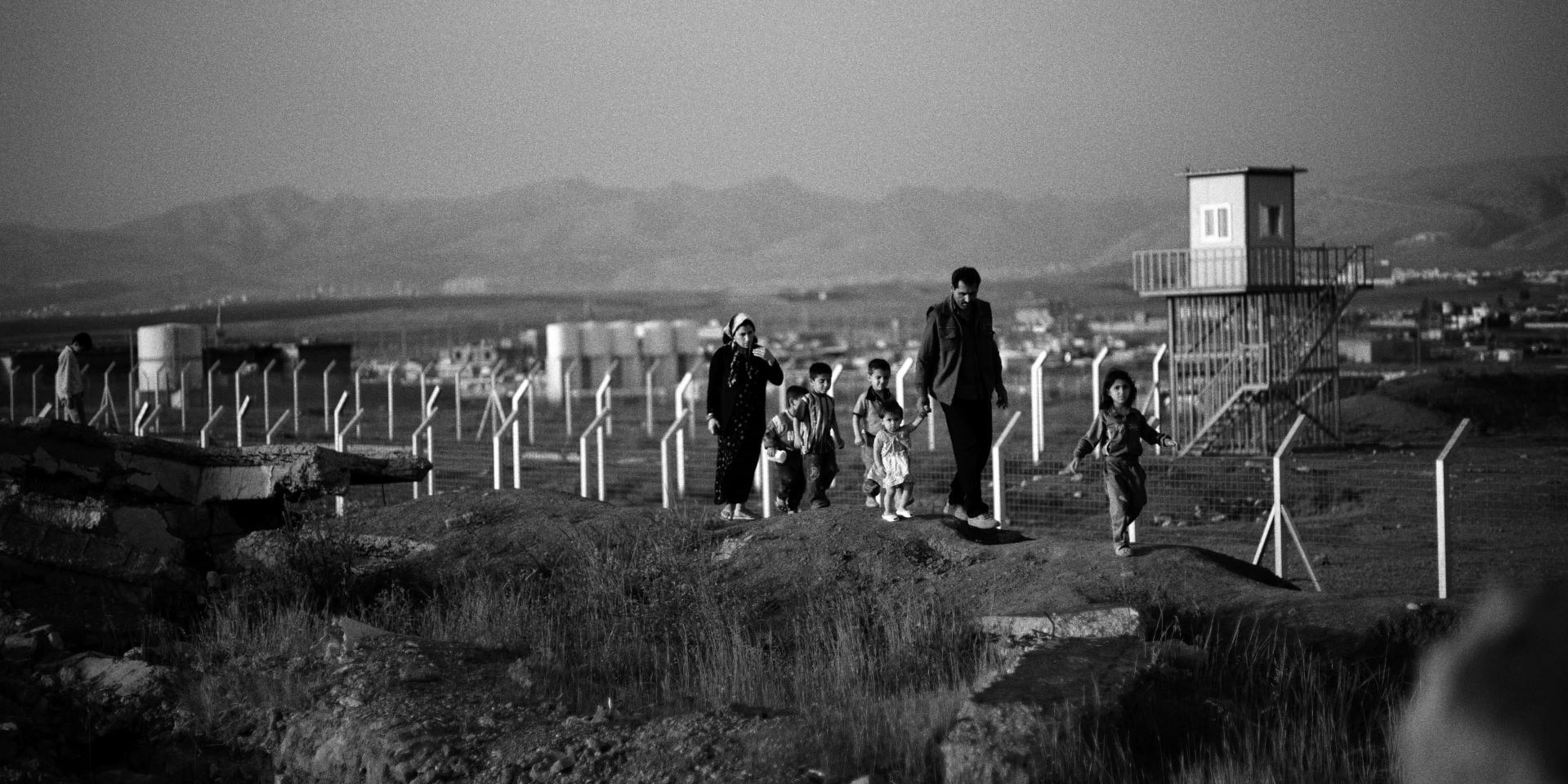 Many families enter minefields in Iraq and elsewhere. The conscientious look at the ground is a survival reflex. © Lasting Footprints
The use of cluster munitions has catastrophic humanitarian consequences. In situations of armed conflict, cluster munitions, whether air-dropped or ground-launched, do not distinguish between the civilian population and combatants. In countries where these weapons are used, 94% of victims are non-combatants – men, women and especially children – who are not carrying a weapon and have probably never done so. And on top of being those most affected by the attacks, these civilian populations often become victims of these weapons years or even decades after the submunitions are released.
What's more, it is estimated that some 40% of cluster munitions dropped onto target territories fail to detonate on impact despite being programmed to do so. As a result, they effectively become anti-personnel mines. For children in particular, these munitions are especially dangerous: given their size, shape and colour, they can pique the curiosity of youngsters, who mistake them for toys. These weapons cause extensive damage, contaminating vast expanses of land and inhabited areas, while putting a large part of the civilian population at serious risk.
The International Campaign to Ban Landmines (ICBL) was launched in 1992 in a special context. The early 1990s saw the birth of a global disarmament movement whose aim was to give voice to victims and their loved ones, and to translate into emotions the daily reality of people living in the midst of weapons that strike indiscriminately. This movement gave rise, less than 20 years later, to the Convention on Cluster Munitions (CCM).
Switzerland – committed since 2010
In accordance with the principles of its foreign policy, whose priorities include protecting civilians and promoting and respecting international humanitarian law, Switzerland became a signatory to the CCM in 2010. In 2021, Switzerland is presiding over the Review Conference and seeking to promote the implementation and universalisation of the CCM.
Switzerland also funds demining activities to the tune of CHF 16 to 18 million each year and, with the help of a number of other states, provides assistance to victims. In late 2018, the Switzerland fulfilled its obligation to destroy its own stockpiles of cluster munitions, resulting in the elimination of 9,000 tonnes of these munitions.
International Geneva plays a key role
Since its inception, the Convention on Cluster Munitions has been based in Geneva. This further solidifies the city's position as the world's main stage for disarmament and, further still, strengthens the links between Switzerland's foreign and domestic policy. International Geneva, as a major centre of global governance, makes it possible not only for states but also for international organisations and civil society to coordinate their actions against cluster munitions. "By means of its network, Geneva serves as a fundamental space from which to promote the Convention on Cluster Munitions, as it is not only the world capital of disarmament, but also that of international humanitarian law," explained Hector Guerra, Director of the International Campaign to Ban Landmines (ICBL).
We have always had a frank and constructive dialogue with the Swiss Confederation.
Hector Guerra, Director of the ICBL
Grateful to Switzerland for assuming the Presidency in this year made especially challenging by the COVID-19 pandemic, Mr Guerra also looks forward to continuing the "frank and constructive dialogue that the ICBL maintains with the Swiss government."
The Lausanne Action Plan will replace the Dubrovnik Action Plan for the next five years
The Convention has the support of 110 states parties and 13 states signatories which together agree on concrete measures for action. The countries that have ratified the Convention have committed to prohibiting the use, production, transfer and stockpiling of such weapons, and to provide assistance to victims.
To date, many cluster munitions stockpiles have been removed and destroyed worldwide, and vast impacted fields have been carefully cleared of these weapons. However, this is not enough, as they continue to be used in many parts of the world far too often.
The Review Conference currently being hosted by Switzerland is expected to yield a new Action Plan. Replacing the Dubrovnik Action Plan, the Lausanne Action Plan will develop new priorities and objectives for the fight against cluster munitions for the next five years. In doing so, the new Action Plan is setting the bar high. Working together, the Swiss Mission in Geneva and the Peace and Human Rights Division will perform the tasks required of the Swiss Presidency.