Good offices: effective dialogue makes great things possible
In Switzerland, solutions are generally sought in consultation with all stakeholders. Swiss diplomacy is also based on this principle, and seeks to facilitate dialogue, for example through good offices. Geneva can be offered as a venue for political talks, and the city will play host to the summit between the US and Russian presidents on 16 June.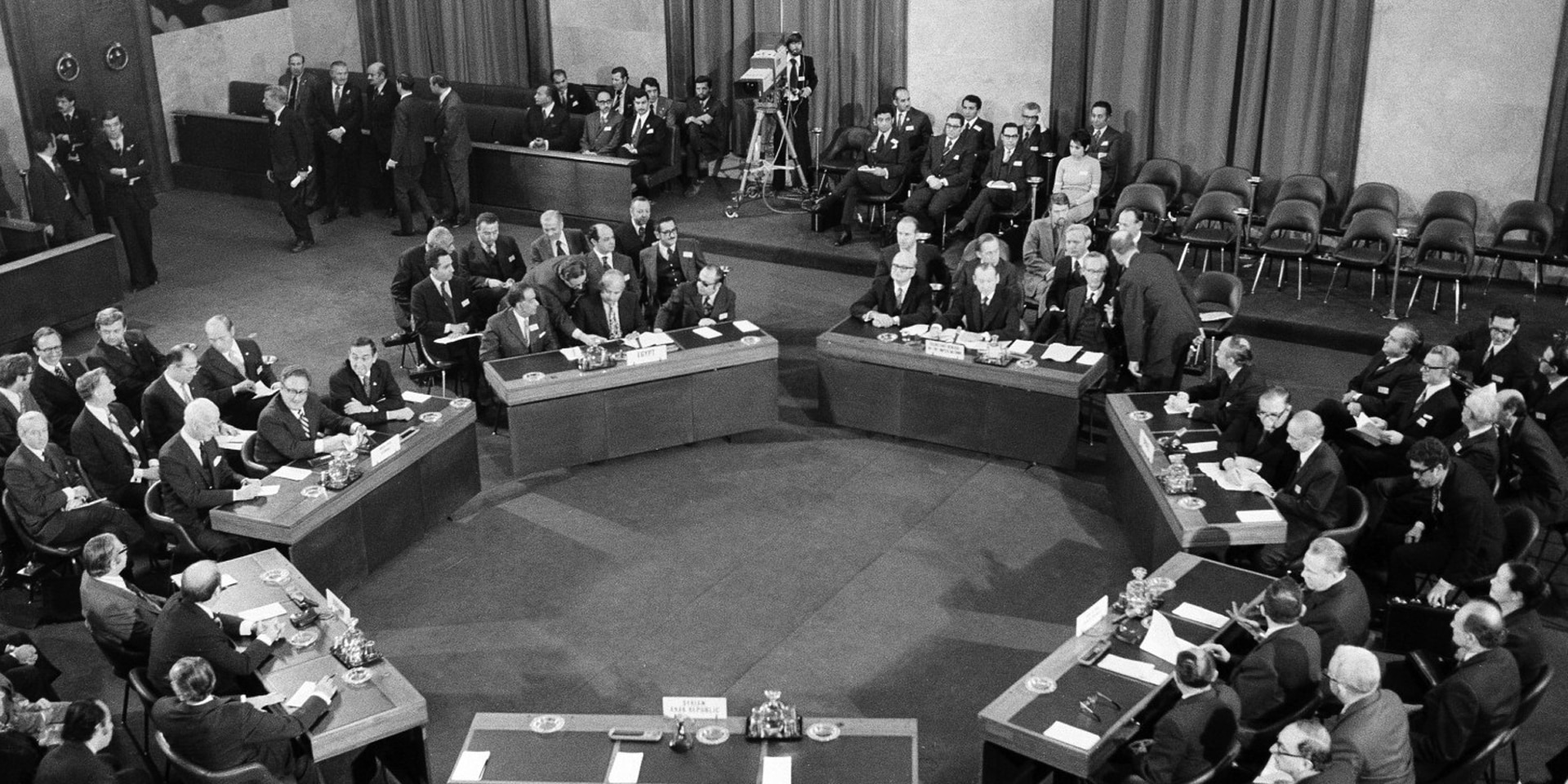 As part of its Good Offices, Switzerland acts as a host state for peace processes: The opening session of the Middle East Peace Conference in Geneva on 21 December 1973. © Keystone
Since the United States and Russian Federation announced that presidents Joe Biden and Vladimir Putin would be meeting in Geneva on 16 June, all eyes have been on this upcoming event. Switzerland is making preparations behind the scenes to ensure that the summit can take place in a discreet environment, free from interruption. It has good and long-standing relations with both countries. Switzerland considers constructive dialogue between the two major powers as a basis for solving intergovernmental and global issues. As such, the meeting between President Biden and President Putin falls within the framework of Switzerland's good offices, through which the country supports dialogue at the request of the parties involved.
Switzerland's good offices are a long-standing tradition, and often take place on the ground where political solutions are hindered by conflict. International Geneva frequently plays a leading role, too, with the city having played host to events of historical significance on a number of occasions. Notable examples include the signing of the peace accords at the end of the Indochina War in 1954, and the summit between Ronald Reagan and Mikhail Gorbachev in 1985.
What are good offices?
"Good offices" is an umbrella term used for various crisis management and conflict resolution tools in Swiss foreign policy.  In particular it involves:
Hosting international conferences and high-level meetings
Representing foreign interests in a country
Facilitating dialogue or acting as a mediator in conflicts
The aim of good offices is to settle differences and conflicts between and within countries by political means. Often, just trying to keep channels of communication open is an important step in preventing further escalation in a conflict and cushioning the impact of disputes. "Without dialogue, nothing works. But effective dialogue makes great things possible," says Federal Councillor Ignazio Cassis, head of the Federal Department of Foreign Affairs (FDFA).
Without dialogue, nothing works. But effective dialogue makes great things possible.
Federal Councillor Ignazio Cassis
All the instruments of good offices have one thing in common – getting parties to engage in dialogue. Switzerland draws on the expertise and experience gained from its own political system in this regard – as cooperation between all stakeholders, mutual respect and consensus-seeking are key elements in the political process at national, cantonal and municipal level. "Our political system is built on respect and collaboration. This is why – as a country with four national languages and four cultures – we are able to keep pooling our strengths and moving forward," says Cassis, adding "mediation and compromise are in Switzerland's DNA, both in our own political processes and in our foreign policy cooperation."
However, Switzerland never imposes its good offices. It either offers to act as a mediator or is requested to do so by states or parties. In practice, however, Switzerland only provides good offices if all conflicting parties agree.
Mediation and compromise are in Switzerland's DNA, both in our own political processes and in our foreign policy cooperation.
Federal Councillor Ignazio Cassis
Safeguarding of foreign interests
When countries break off diplomatic relations in part or in full because of differences, dialogue also breaks down. In such cases, Switzerland can step in through a protecting power mandate and safeguard the interests of a state by performing diplomatic tasks and consular services. In this way, it allows the parties to maintain relations.
Switzerland first acted as a protecting power in the 19th century when it looked after the interests of the Kingdom of Bavaria and the Grand Duchy of Baden in France during the Franco-Prussian War in 1870–71. The number of protecting power mandates steadily rose over time, reaching a peak of 219 individual mandates during the Second World War. The end of the Cold War and the decline in conflicts between states led to a fall in the number of Swiss protecting power mandates. Recently, however, demand for Switzerland's assistance has increased again. It currently has seven mandates.
Switzerland's current protecting power mandates
Iran in Egypt
Switzerland has been representing Iranian interests in Egypt since 1979.
United States in Iran
Switzerland has been representing US interests in Iran since 1980.
Russia and Georgia
Switzerland has been acting as protecting power for Russia in Georgia and for Georgia in Russia since 2009.
Iran and Saudi Arabia
Switzerland has been representing Iranian interests in Saudi Arabia and Saudi Arabian interests in Iran since 2017.
Iran in Canada
Since 2019, Switzerland has also been representing Iranian interests in Canada. 
A Ginevra la Svizzera accoglie, ad esempio, il processo di pace per la Siria, che riunisce sotto l'egida dell'ONU tutte le parti coinvolte. Per dare la possibilità anche alle cittadine e ai cittadini siriani di far sentire la loro voce nella ricerca di una soluzione duratura per il loro Paese, la Svizzera ha creato una piattaforma specifica (Civil Society Support Room). Nonostante l'irrigidimento delle posizioni e la pandemia di COVID-19 abbiano portato al momento il processo di pace a un punto morto, la Svizzera continua a sostenere la ricerca di una soluzione politica a questo conflitto iniziato ormai dieci anni fa.
Switzerland as a host state
As a neutral country that maintains good relations with all countries, in keeping with the principle of universality, Switzerland is regularly asked to host peace talks, negotiations and high-level meetings. Geneva is particularly suited to this as many countries already have representations there, while numerous international organisations (such as the UN and the ICRC), economic and scientific actors, and non-governmental organisations also have offices there. Switzerland acts as host state in this area. Its goal is always to ensure optimal conditions and the right environment for political talks.
What does Switzerland do?
When an event is due to be held on Swiss soil within the framework of Switzerland's good offices, Switzerland works with the delegations involved to plan the meeting or talks. It takes care of conference venues, security, welcoming senior public officials and issuing visas to enter Switzerland. Switzerland's good offices have an excellent reputation among states, parties to conflicts and the UN, and the country is recognised as a discreet and reliable partner.  
For example, Switzerland hosts the UN peace process for Syria in Geneva, which brings Syria's warring parties to the table under the auspices of the UN. To give ordinary Syrian citizens a say in efforts to seek a lasting solution for Syria, Switzerland has set up a special platform – the Civil Society Support Room – in Geneva. Although the peace process has currently stalled owing to entrenched positions and COVID-19, Switzerland continues to support efforts to find a political solution to the Syrian conflict, which has already been going on for 10 years. 
Mediation and facilitation
Over the last 30 years, conflicts between states have increasingly given way to conflicts within states, as in Syria. Conflicts within individual states do not require protecting power mandates. In regional, religious and ethnic disputes, Switzerland uses other instruments of good offices to promote dialogue. When Switzerland brings the parties to the table without taking part in the dialogue itself, this is facilitation. When Switzerland takes part in peace processes and is actively involved in seeking solutions, this is mediation. Mediation and facilitation usually take place behind the scenes and require discretion, diplomatic sensitivity and perseverance.
Switzerland has accompanied over 30 peace processes in more than 20 countries in recent years. One example is Mozambique, where in 2013 civil war flared up again.  In 2016, the government and opposition party called on Switzerland's good offices. Switzerland acted as mediator in the peace talks, which culminated in a peace treaty on 6 August 2019. When Federal Councillor Ignazio Cassis attended the ceremony marking the signing of Mozambique's peace treaty, he emphasised the importance of good offices, saying: "Switzerland has once again made a pivotal contribution through its good offices and neutrality, and especially its outstanding diplomatic professionals."
Peace and security: a priority of Swiss foreign policy
At the end of January 2020, after analysing the state of the world and evaluating trends and developments that could shape the future, the Federal Council defined four thematic focus areas in its Foreign Policy Strategy 2020–23 (FPS):
Peace and security
Prosperity
Sustainability
Digitalisation
According to the peace and security focus area, Switzerland aims to help build a peaceful and safe world that allows people to live free from want and fear, where their human rights are protected and they can enjoy economic prosperity. Thanks to its long tradition of good offices, Switzerland has a strong foreign policy profile and is a globally sought-after actor in peacebuilding. This in turn opens doors for other areas of foreign policy. Switzerland is seeking a non-permanent seat on the UN Security Council for 2023–24 to be able to implement its constitutional commitment to a 'just and peaceful international order' even more effectively.
The FDFA has drawn up thematic and geographical follow-up strategies derived from the FPS. They are structured along the lines of the four focus areas. This ensures that Switzerland's foreign policy activities are implemented more effectively, avoids any overlaps, and harnesses synergies between the various federal offices involved and external partners.
The interaction between strategies is important to ensure Switzerland implements its foreign policy in a coordinated way in all regions of the world and presents a coherent and unified image.